Benefits of Car Wash Digital Menus
June 2019

,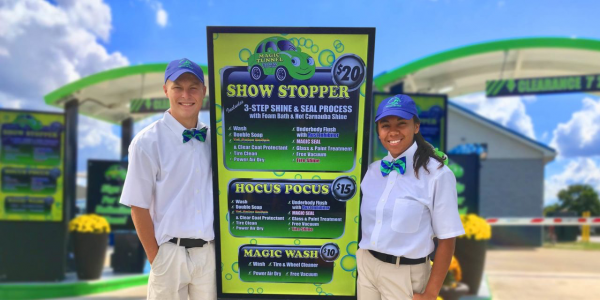 Car wash owner-operators are always looking for better ways to consistently deliver high-quality service to their customers. As a result, upping customer counts and throughputs is a huge priority. Leveraging digital menus to boost sales is a solution gaining lots of traction.
There's ample reason to turn to this technology to bump up revenue. For one, the market for digital signage is big and growing. It's expected to reach $6.9 billion by 2025. That's because end users in a wide variety of industrial verticals are scrambling to adopt the technology to promote and distribute content. Add the benefits and potential return on investment that digital menu boards deliver and they become difficult to ignore as cost-effective marketing tools.
Here are some ways digital menu signage can help your car wash gain a competitive.
ENSURE CONSISTENT BRANDING
Beyond structural appearances, digital menus are one of the first impression points of a car wash and its brand. Consumers typically choose specific brands because they make them feel good. They also choose them because they promise a great customer experience. That's why getting your menu boards right the first time is critical.
Digital menu boards can be custom-configured to tie in all elements of your brand. The ability to customize signage by location or regionally allows you to provide a precisely targeted, differentiated customer experience at each wash you own or operate.
Digital signs can further support your brand identity when placed at other areas of your car wash. The end of the tunnel and waiting areas are two good examples. Use these opportunities to:
Promote your wash's social media presence
Inform customers about charitable events at your wash
Advertise club memberships
Offer discounts on wash cards
Thank customers for their business
IMPROVE THROUGHPUT
Succeeding in the professional car wash industry is primarily about consistent delivery of clean, dry vehicles time after time. But it's also about processing a certain amount of cars per hour, week or month in order to achieve revenue goals.
Placing digital menu boards with professional looking content before the pay station gives customers the opportunity to quickly decide what wash package they want to purchase and enables a better flow of vehicles into the wash.
BE IN CONTROL ON-SITE OR IN THE CLOUD
If you're not tech-savvy or just don't have time to learn how to configure the display software, hire third-party vendors to manage the content and screens from off-site cloud servers.
Technicians can program your menu boards to display unique content by the hour, day or by any schedule of your choosing. In addition, they can monitor the status of the displays and troubleshoot problems in real time. That's a huge benefit mitigating any loss of business due to downtime.
Hands on owner-operators can also configure digital menu boards using a media player or even a thumb drive. Newer displays have embedded CMS (Content Management Systems). That allows you to edit and play content, schedule playlists and manage multiple displays via remote control without needing a separate PC or software.
ACHIEVE BETTER CONTROL OF OPERATING COSTS WITH REAL TIME MENU ADJUSTMENTS
While digital menu systems do require some substantial front-end investment, their cost to operate over time is much more predictable. One reason is they are more cost-efficient. It's easier to control costs versus static signage. Commercial-grade displays can also last 60,000+ hours in outdoor environments.
The revenue-capturing potential of digital menu boards is also much better because specials and promotions can be targeted during peak times of customer demand such as weekends and holidays. Afterwards, you can seamlessly switch back to normal pricing.
In addition, owner-operators with multiple locations can ensure menu pricing and promotional consistency across locations or offer differentiated pricing based on local demographics.
CAPTURE RELEVANT DATA
Some studies report that when measuring car washes with two lanes — and looking at historical sales data from loyalty or car wash club plans—increases in revenue across the board were realized at washes with digital menus versus conventional signage.
Capturing and analyzing real-time customer data is not easy. However, the more extensive the analytics you can use, the more you can determine what works and what doesn't. Knowledge of how your system is performing will provide you with the tools you need to help you upsell.
OPERATE IN ALMOST ANY CLIMATE
Today's design technology enables digital menu boards to function in harsh climates. In fact, our car wash digital menus are water-sealed displays.They are rated IP56 and are adjustable from 200 nits to 3,000 nits brightness. They can also operate in temperatures ranging from -22⁰F to 122⁰F.
With few exceptions, these units are functionally designed to operate efficiently in most outdoor environments with few hiccups.
CAPTURE THE ATTENTION OF TARGETED CUSTOMER COHORTS
Numerous studies point to the fact that demographic groups like millennials are well-known early adopters. They are especially fond of video technology.
Millennials are ravenous consumers of digital media. They lead all other generations in ownership of smart devices. About 80 percent of Millennials own cars. That makes it likely they'll frequent car washes at some point and likely expect to interact with digital menus.
The majority of this segment will pay more for a product or service if they know it supports a cause. Be sure to configure your digital menu boards to announce community sponsorships you support. Don't forget to mention environmentally responsible business practices you participate in like Water Savers®.
CONCLUSION
Digital signage systems should be envisioned more as a strategic marketing tool rather than overhead. Try not to think of costs vs. profits being front and center. The goals aren't always about money. Sometimes they're also about customer engagement.
Written by